(Starship Agencies is Offline) Launched 9th April 2022
Learn how you can make money daily on Starship Agencies with your phone or laptop with these new ways of earning.
Set to launch on 9th of April with now the support of crypto currency (USDT), you can now cash out your earnings to your crypto wallet in this new feature. Among the new ways you can make money on Starship agencies, is through:
NFT Trading
Starship platform trader
Affiliate marketing or referrals
Referral competition awards
Trading competition
Crypto Marketplace
1. Affiliate Marketing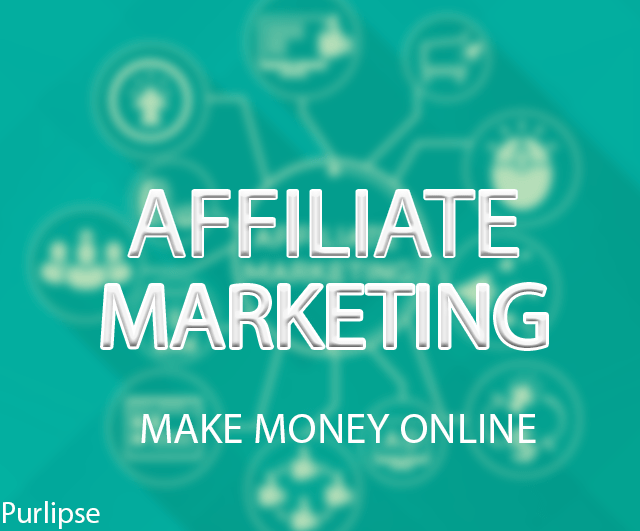 With affiliate marketing proving to be the most profitable among all the rest, it is important to plan a strategy on how you can make the most out of this opportunity. In this earning method, it is a requirement that you should refer new members into the platform which in turn earns you money depending on the levels they fall into. In starship agencies, there are three earning levels under referrals.
Level 1 Ksh 300
Level 2 Ksh 100
Level 3 Ksh 50
For an earning to reflect your account balance, you need to invite the new members using your referral link. To get your referral link, you need to be a paid member. This means that you need to have registered and paid the registration fee of Ksh 500 which every new member is required to pay to access all the earning features.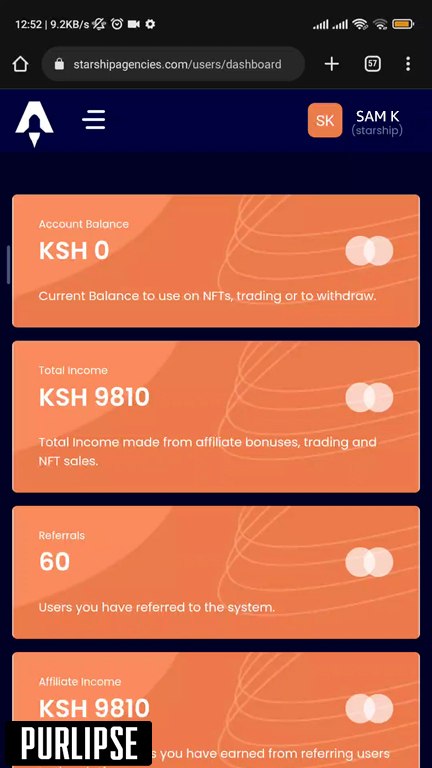 More on earning levels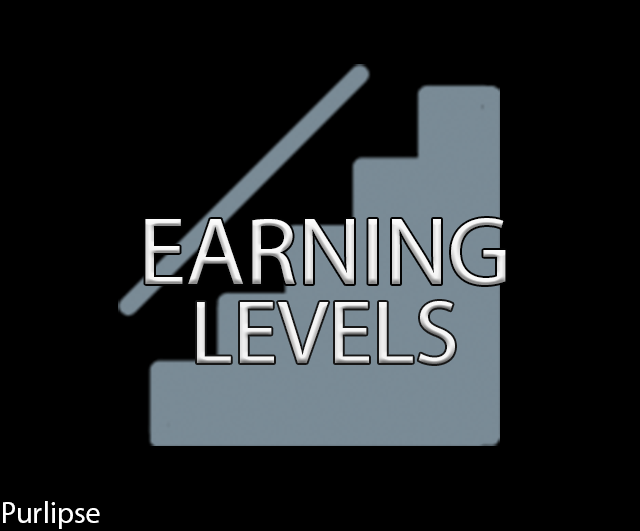 Your level 1 earns you Ksh 300 or 3 USD, of which the remaining Ksh 200 or USD 2 is split between your inviters or the company. Your directly invited members fall here, under your level 1 earning list. For instance, 10 level one paid members invited by you will earn you Ksh 3,000.
Any member invited into starship agencies from your level one members now becomes your level 2 downline. Your level 2 downlines will earn you KSh 100 each. In the case that you assist your level one members to also invite 10 members each, this adds up to a total of 100 members earning you Ksh 10,000 or USD 100.
Your level 3 members earn you Ksh 50, and they are members who join starship agencies using your level 2 downlines link. In other words, they are direct members of your level 2 category. For better stats, from the previous case of having 100 level 2 members, if they can get to invite 5 members that adds up to 500 members, you can earn Ksh 25,000.
Referrals might be harder to achieve if you are not easy with making connections and educating them on how they can make money through affiliates or referrals. For those that give it a try or have had their way of getting clients to do this, mostly part with good amounts of money in the end.
It is most profitable during the first periods of the company launching. In this case, starship agencies is going to be running on more diverse earning methods, making it likely to attract more users in the long run, compared to ones having fewer earning methods.
2. Starship Trader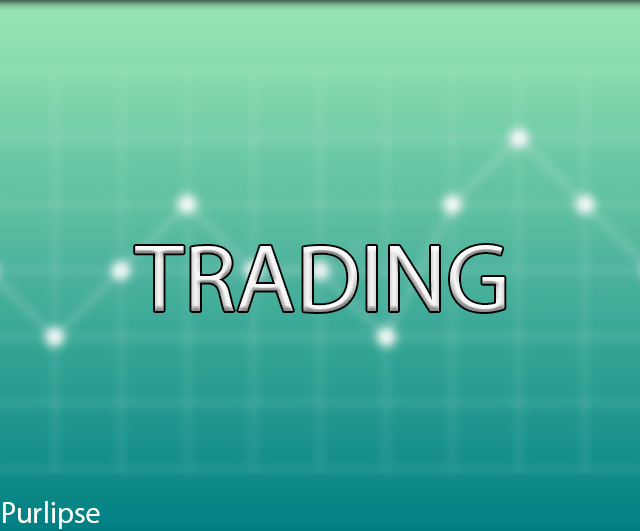 Starship trader is a trading feature that runs within the website, that rewards its traders if they make a correct prediction on the direction of active website users within a specific time frame.
Starship trader has 2 and 5 minutes trading windows for you to predict whether the number of active users in the website will increase or drop.
This means that you can enter a trade with a prediction that runs for 2 or 5 minutes. If you predicted that there will be more or less users logged in after 2 minutes and you win, you will get a payout of 20 percent of your stake. Either way, if you made a correct prediction that there will be more or less active users after 5 minutes, you will get a payout with an additional 60 percent of your stake.
Similarly, you can likely lose your money if your predictions fail to be correct. You can learn a trend by observing the number of active users at a specific time of the day so you will be more likely to make a profit in future. I advise you to do this responsibly since you can also lose your hard earned money in this way.
3. NFT Marketplace Trading
Get to buy or sell NFTs on Starship Agencies to make a profit, with the trade running on 24 hours everyday. You can also earn money indirectly through NFTs trades made by your downlines, with every trade earning you up to 3 percent of the NFT trade cost as an upline.
We are yet to try out this new earning feature as we always do for you, with a live demo preview on how it operates and whether it's worth trying out.
4. Referral Competition Awards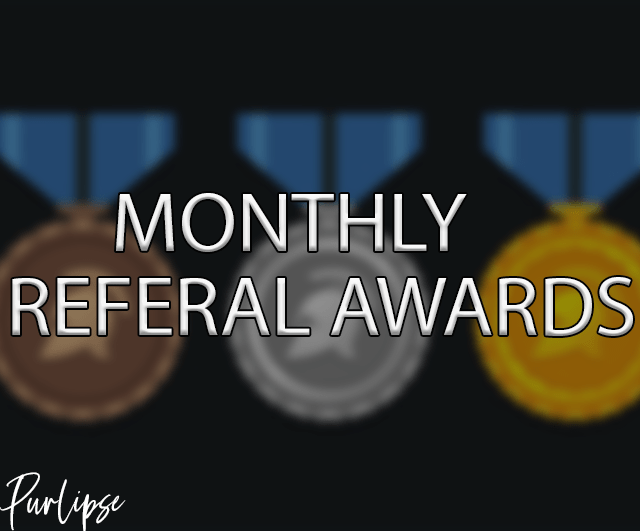 Monthly awards will be issued to the top 5 earners who have made the most profit under referrals, with money prizes that will be communicated on the website. reward amounts will vary depending on the order of the top earners.
5. Starship Trader Trading Competition
Under the Starship Trader feature, top traders are going to benefit from weekly cash rewards that will be cashed into their account balance. They can then withdraw their balance through mobile payment or to their USDT crypto wallets.
6. USDT Crypto Maketplace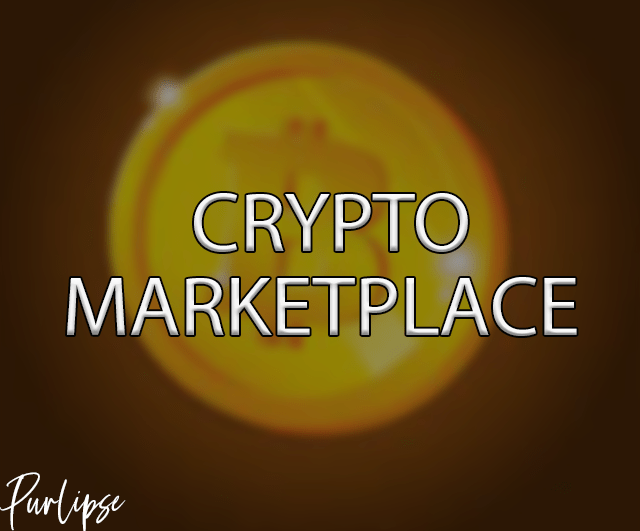 As mentioned earlier, with the support of USDT crypto currency in starship agencies, members can also get to directly transfer funds to their wallets by purchasing the USDT currency which will be deposited to their crypto wallets.
Why Join Starship Agencies
Additional features are set to benefit you inside starship agencies, including paid assets that are given to you for free, with the likes of Forex classes to help you become a better forex trader by giving you new strategies and other educational materials. Other beneficial features are crypto currency master class sessions, virtual betting tips for those who might find it useful.
Starship Agencies payouts
You can now cash out your wallet balance in two ways, either through your primary activation method using mobile money (Mpesa) or through your USDT crypto wallet. USDT is a crypto currency with a value mirroring the United State dollar. Conversion values lead up to a closely similar balance in terms of worth.
Minimum payout amounts are Ksh 500 instantly transferred to your mobile money account.
Questions? You can leave a comment to assist other members that may find it useful.
What is Starship Agencies
Starship Agencies is an online multi earning platform in Kenya with earning methods based on Referrals, NFT Trading and Intra trading option called Starship Trader.
Does Starship Agencies Pay?
You can withdraw your account balance to your Mpesa or to your USDT Crypto wallet on the Starship Agencies dashboard.
How much does Starship Agencies Pay?
Entirely depending on your efforts, you can make anything from Ksh 300 and beyond using the earning methods on the website. You can as well part with nothing on some occasions or even less.
How do I join Starship Agencies
You can find the registration link here or head over to their site and complete the user registration from. You will be required to pay an activation fee of 5 USD or Ksh 500 to access all the earning features.