(Videomine Technology is Offline) Launched 22nd October 2021
Having been up for over 7 months now Videomine is a website with it's android app version "Videomine Org" standing with over 100 thousand downloads on playstore with an overall low rating of 3.6 with a big following on YouTube with over 29 thousand subscribers.
Videomine is an online platform from Nigeria created in October 2021, recently concealing it's website owner details on (Whois) that is described as a platform of money making opportunities online. The earning opportunities are ranging from :
The affiliate System (Individual Based)
Described as a way of making money by inviting other members onto the platform to earn a commission from it, Videomine is offering an opportunity to earn from affiliates at 70 percent as one way of making money, alongside with free classes at the end of the month that will increase the skills of registered members on doing affiliates.
With the affiliates doing all of the marketing task on Videomine with the hope of getting the 70 percent cut of the registration fee paid by new recruits, they advertise the means of earning available on Videomine and digital products available for sale on the website. Some of the digital assets on sale are skill courses to help members refer more members successfully onto the platform.
For every asses sold by a member they also earn a 70 percent commission that is tracked by an affiliate product link generated by the website.
Multi-level Marketing Structure (Group Based affiliate level)
This is an earning opportunity similar to the affiliate earning method in every way, only this this is on a group contribution level.
Users will choose to select either from an individual based affiliate system or from a group based affiliate system. The group based affiliate system on Videomine means that, instead of getting a payout once you successfully make a new invite, you will make the contribution as a group until you meet a specific target. This is when commissions are issued at a percentage to the team contributors.
Similarly, the multi-level marketing structure also has digital products for sale that offers a commission based payout to the sellers.
Other Earning Sources on Videomine
From their name Videomine, among the earning methods offered in their description is earning money from watching videos posted on their website, giving you several points for every video watched. The points can then be cashed out after meeting a certain minimum threshold.
You are also given points for posting videos on the website, with an upload limit person.
Daily visits earn you points when you log into your account, since you provide an income to the website through advertisement interaction.
Also Read: Starship Agencies making money online in Kenya and Nigeria.
Why Should I Look Out for Videomine?
If you have been in the internet for a while now, you probably have noticed an upward trend in the growth of similar websites with the same earning structures of referring new members, selling them digital products at a strangely high commission rate. Most of these platform benefit majorly on the affiliate membership contribution, where we have new members registering into the platform and topping up the registration with a fee.
These website platform depend on the income of fresh registrations to sustain their payouts to the existing members. That's why we see a very high commission payout to the members to encourage them on the recruitment process.
Most people do not meet up with the requirement of inviting new members to make up for the money spent on the registration, but we also have others who manage to be successful in it and make quite some money off it. Majorly being influencers and people with access to an audience with good persuasion skills.
We do have most of platforms like this running well but only for a limited amount of time. The limitation comes from a decline in the registration of new members which cut's of the profits generated and now forces the company to make payouts off their own money.
This is where we see many of them close down and leave new registered users infuriated because the site's functionality suddenly comes to a standstill. This mostly happens after they have paid or have made deposits and are left in distress with their hard earned money now frozen.
First Look on the Website
Presented with the registration page, you can only fill out your details but you cannot register without a coupon code. You can only pay for a coupon code, so that you may access the rest of the earning features of Videomine.
To get a coupon code for Videomine, you need to:
Visit the official Videomine site
Click on "Vendors" on the homepage menu
Listed will be vendors with their whatsapp contacts that will exchange a coupon code for N 2,000 (2000 Naira)
The coupon will be a requirement on the registration page.
This process of account activation is much more oriented into the direction of making money rather than letting it's users experience the website first. Videomine selected a few individuals to be among the members who take on the activation fee from clients.
Videomine on Play Store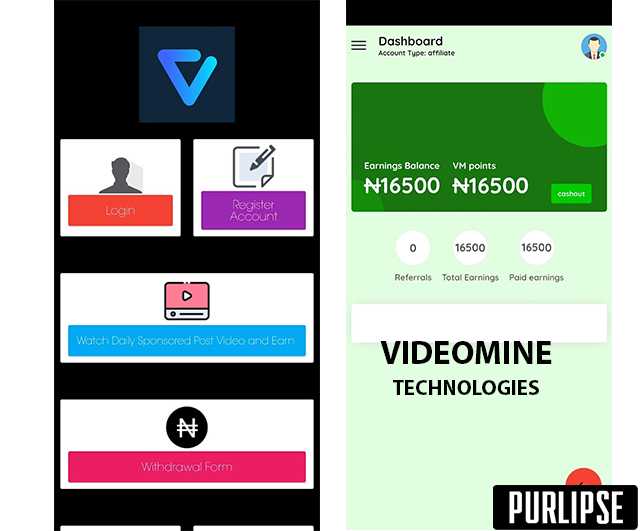 Within the seven months that they have been online, they actually racked over 100,000 downloads on playstore. Their app contains advertisements and so they have also been making a good amount from the daily logins of their users.
An outstanding downside on the their Play Store app is their overall rating of 3.6 which shows massive dissatisfaction and complaints from the many who have had to experience the platform. Ranging from poor interface development, closed withdrawals, and many scam complaints coming in as a one star review.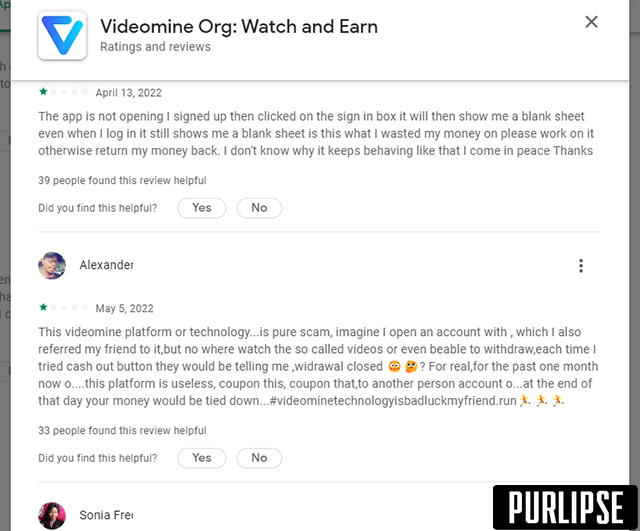 As much as we see that the last update was made on February 2022, the complaints coming along with 1 star rating are even more recent. This possibly means that at one point there was a good rating of the website as it was still young and many gave it a honest good rating.
Now clouded with angry and hopeless clients calling out Videomine to release their money, we can't be sure whether this is going to be addressed at all.
It is important to observe caution before joining platforms like Videomine, especially 2 months after they have been around. They are well known to have a common tendency of being in operation for only a short period before closing down.
The application operations coming from Nigeria, we have had some of Videomine's users coming globally as well. Worldwide payments were used since the account activation fee was sent directly to their agents. Being a long time since Videomine launched, it's now crystal clear that putting in your money into the platform for whatever reason would not be the best thing to do.
Upcoming platforms are always profitable eventually only if you consider being an active user within its first 4 to 5 months. Beyond this time frame you are most likely to never break even to to never get your profits payout altogether!
It is always important to have a background check and timeline review of any platform claiming to be a business opportunity online. Simple invitations from friends or social media trends are never good enough. All they may be interested in is earning a commission from your recruitment then never to be heard of. Cheers!
Did Videomine shut down?
Based on a pyramid scheme structure, you can't expect it to be up for over 6 months and still be profitable. Be cautious!
How do I get a Videomine Coupon code?
Agents contacts from Nigeria were posted on their website to receive your payments directly then exchange it for a coupon. Whether this still works is another question!
Can I still earn on Videomine?
Best to say you can't expect to make any cashout from Videomine at this point, with complains of withheld funds coming from the Videomine community on Plyaystore.
Which Country does Videomine belong to?
Nigeria and is operated in Nigerian Naira.