(Smart Hela is Offline) Launched 12th March 2021
Set to launch on 10th April 2021, SmartHela is a picking up from the previous Mulaempire, also from the previous Eazycash, names that might be familiar with most of the returning clients of the online referral business. The ways of earning money on SmartHela are closely identical to all the other establishments they have hosted on their platforms, under their title Satoshi Agencies.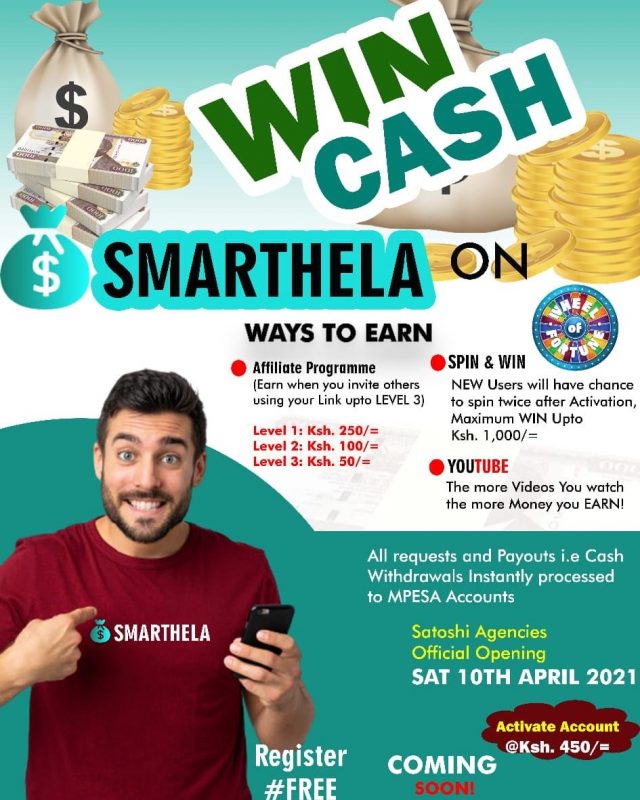 Earning Ways on SmartHela
With the main promising source of income being member referrals, (Is a form of member recruitment into SmartHela into the platform using your registered link and payment of Kshs 450 upon registration) members are set to earn Ksh 250 for every new direct registration made, and Ksh 100 to Ksh 50 for every indirect registration made. By Direct registrations I mean, when you register into the SmartHela platform and pay the required registration fee of Ksh 450, you are then given a personal link that is an extension of your username.
If you have issues or needing guidance,
Upon sharing this link to friends, they are presented a registration form, just as you would find on any other registration page. The catch of making money with SmartHela comes in, when the invited user pays the required Ksh 450, which now also gives the new member the relevant link which is also an earning opportunity in the case of successful referrals.
You may want to ask, is referrals the only way I can earn on SmartHela? SmartHela, just like its previous platforms, there are several options in the name of earning opportunities that you can make use of and make some money. Are they legit? Well come to think of it, this kind of business is set to thrive solely upon referrals, since this is directly where transactions are made. In the cases of putting in a lot of effort on the earning ways apart from referrals, you are very likely to suffer disappointment because this is way harder than it looks like.
Given cases like earning money from answering trivia questions, or by writing articles, there isn't a clear presentation of how money is made there, so expect to struggle if you are joining without a primary consideration of referrals being your priority.
It is not a surprise to have the hosting servers to SmartHela overloading during the launch days, since they have developed a quite huge fan base, and they make most of their money on the first or second days after launching. This has happened every time there is launch to their platforms, and this is just how the system works. A lot of money is made during the first stages of the website after its launch, then the graph continues to go down with time. That is why there is a constant launch of the chain of these referral businesses, commonly under the same founders.
Is SmartHela Legit?
When it comes to the question of legitimacy, as in observing their statements and delivering withdrawals, yes they do deliver. I have had an experience with their previous platforms, EazyCash and Swiftmart, and every withdrawal made coming from referral earnings has always been delivered. I honestly didn't bother to look into the other earning ways, since it is clear you are most likely to make nothing or get a frozen withdrawal when you initiate withdrawals from the other categories of earning money from their platform.
So in the case of joining for referrals purposes only, you are guaranteed to make money and get 100% of your withdrawals to your phone. There has been no doubt about that.
I have considered joining the likes of SmartHela since it is a simple way of making money, with just the correct strategies, you can really have a good outcome. Just lay out your strategy before getting started, otherwise you will be presented to disappointments.
If you have a really good audience or fan base, consider yourself lucky because you can all benefit from this kind of business, but the catch being that the person on top will make easy money and make the most out of it. Have a look at the definition of a pyramid scheme, and know why it can be risky.
Also Read Earning steps with SmartHela
But if you know all about it and you would just like to do it for the case of making extra money because you know your way around referral platforms like SmartHela, then be my guest. There is no harm in going for what you are well aware of.
Just have it clear, that it can be risky if you have no clear understanding of how you are going to make your money back as profit after joining the platform. Otherwise, I know of very young people that are constantly making loads of money from these platforms, and they keep doing it again and again. It's all a matter of being well informed and finding your way around things.
Is Smarthela legit?
Smarthela is a legitimate online business running in Kenya with over ten thousand members with the youth making up close to 90 percent.
Earning methods with Smarthela
Referrals or Affiliate marketing
Blogging
Trivia
Casino Spins
Watching videos
Note that some of the last four earning methods listed may no longer be available.